«Douze hommes rapaillés», Quèbec-city, July 11 2011, The Summer Festival in Quèbec
It was a fantastic show, I would even call it mind-blowing, and not just because of the sound volume. The public was clapping away, singing along and even foot-stomping (a Quèbec tradition)! The show was part of the Festival d'été de Québec (The Summer Festival in Quèbec), performed under the open sky (for the first time, as I learned), in a park, unofficially still called by its old name Pigeonnier («Pigeon house»), while its official name is Parc de la Francophonie (The Francophonie park), no less! It was a standing room only even.
I am very grateful to the entrance guards who warned us not to take any pictures – this allowed us to really concentrate on what was the most important. So – no, I don't have any pictures and I am so happy!
And so, the 12 men. Each of them had 2 songs, sometimes the others would join in (one or two people at a time, or all together). They would enter the stage separately, at various times during the production, take their seats on the chairs, listen, sing along, leave and come back. Each of them strikingly different and strikingly humble (until it was time to sing). I knew almost none of them before. Later I learned a lot more and found out that all the project participants are not just excellent performers, but also authors, composers and intellectuals, and many are known for their active political involvement and their interest in Quèbec's traditional culture.
Yann Perreau, Vincent Vallières – they are relatively young, but quite popular singers. In my opinion, Yann was especially lucky with his songs, for he got the two major romantic hits «Je marche à toi» and «Amour, sauvage amour».
Martin Léon – he is known as an intellectual singer and song author, who studied film music with the great Ennio Morricone.
Jim Corcoran – anyone who saw the promotional video for the project remembers him with his stunning song «Navigateur». Despite his Anglo-Irish name, he is a francophone. Jim is an educator; he is hosting a English-language radio show about Quèbec's francophone music on Canadian radio.
Michel Rivard – he was my revelation. I am regretting not having known more about him before the show, but his image of a quirky intellectual was quite memorable. Michel writes amazing songs and plays an active role in the movement for preserving Quèbec's francophone identity.
Pierre Flynn – I still don't know much about him, but I noticed that he was one of the more popular participant's of the project. When he sang, there was something demonic in him – he seemed to soar above the public and rule it almost like in a trance (this effect did not transfer to the audio disc, but it was present at the show!)
Michel Faubert – During the concert I knew nothing about him, but he had me at the very first note, when he opened the show with such gusto with his colorful «Corneille ma nouhEER» (yes, instead of «noir» – his Quèbec accent is very pronounced), and later he sang «Je t'ecris pour te dire que je t'aime». You cannot help paying attention to him! Michel is part of an excellent a capella group «Les Charbonniers de l'Enfer» and has a great stage presence.
Louis-Jean Cormier – he made all the musical arrangements for the show and he himself is a singer and plays in the band «Karkwa». He also worked as a guitarist during the whole show. During the show somebody was constantly replacing his guitars (something I never seen before). I especially loved one of the songs he sang: «La route que nous suivons».
Richard Séguin – he is handsome and charming. He must be very popular in Quèbec and it showed. The song «Compagnon des Amеriques» stirred the crowd's patriotic feelings – I vividly remember burst of applause caused by the line «Québec ma terre amère ma terre amande»…
Yves Lambert – another revelation for me. Along with Michel Faubert he comes from the folk music. For years he performed with the famous group «La bottine souriante». With his accordeon and his deep Quèbec accent, which makes his «r»s sound practically like in Russian, he closed the show with the song «Retour a nulle part», which I first thought was a folk song. (In reality Gaston Miron wrote this poem after the defeat of the referendum on Quèbec's independence). That final song was also one of the most emotional moments of the show: all the «hommes» joined in a capella style, encouraged the public to sing along (and the public was only too happy to oblige), and then while the public was still singing … they left the stage, and so the show ended with the people singing by themselves about the hope that never dies, and that was stunning!!!
Gilles Bélanger – He is the composer who wrote all the songs. As I learned later some of the songs were written earlier and had been performed by other singers, but of course, they became famous after the «12 hommes …»
And another musician who made an impression on me was Mario Légaré, the bass player, in fact one of the best bass players in Quèbec. It's impossible not to notice him on stage – he is extremely emotional, something one doesn't always expect from a bass player…
Daniel Lavoie – Daniel was perfect and as always, unpredictable. Even the way he appeared on stage was different from everybody else's. All other singers would enter the stage and sit down on the chairs arranged there in semi-circle. Daniel came out at the same time as Pierre Flynn but along the back wall, trying not to draw any attention to himself, and sat down behind the musicians. There he remained hidden during several songs performed by others, and from there he began his «Soir tourmante», slowly making his way towards the front. From the very first few syllables his voice strikes you with its beauty and power. No discs, no videos give a full account of this timbre. I was ready to just sit back and revel, and then all of a sudden… I was stunned: when Daniel came to the line «Et tu meurs» he started … smiling and radiating light. This is something I did not expect at all, I thought that the song was quite dark. However in some interview Daniel once said that he did not consider this song to be dark which did not make much sense to me until I saw him perform it on stage. And sure enough what he sings about is how death is a natural part of life (an inherent idea of Daniel's own poetic philosophy). And this view of the connections between life and death was so poignant and courageous, and the combination of philosophy (a purely intellectual product) and that light, coming from inside the singer's nature right before your eyes was so brilliant all that made you heart skip a beat. In my memory there is this image of Daniel radiating light like a torch, singing the wordless song of the old Ossian (something he didn't do on the disc), virtually soaring above the crowd… The public was ecstatic.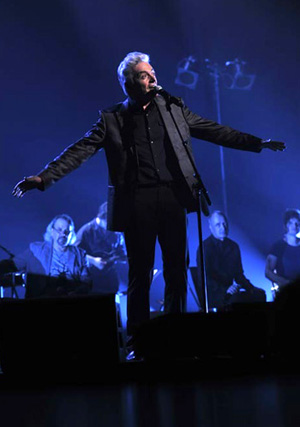 This photo reflects Daniel's mood in the song «Soir tourmante» very well. (The photo belongs to the Agency Spactra and was taken a month before, at the same show at a festival in Montreal.)
After that song Daniel rarely left the stage, only along with all the others. Sometimes all the 12 men would leave and then come back. Sometimes they wold all provide the back-vocals (and I must say, Daniel did it with a visible enthusiasm!) While he was listening to others it was amusing to observe him. I must say that his good spirits and an easy smile was a contrast to his colleagues. (It looked like a light was coming from inside, the light of a person, who knows something important and positive about life, perhaps?..)
Daniel's second song, «Ce monde sans issue» was filled with an enourmous power. In some incredible way the singer managed to fill the whole stage, and not just the stage – he was soaring over the crowd, emanating some superhuman energy! I should also mention that Daniel was the only one who got the «Bravos» from the crowd after both of his songs.
P.S. Upon my return from Quebec I learned that on that very day, on July 11 Daniel began recording his new album («J'ecoute la radio»).
Anna None