Charity Projects
Concerts, festivals and numerous speeches and interviews on radio and television, producing of canadian artists, painstaking work on albums…
Daniel Lavoie is a very busy man, but, despite his busy schedule, he always finds time to participate in various charity projects.
In November 2000 in Telestar interview he said: «As soon as I can ease someones suffering, I`m ready, It`s not hard for me».
It seems not possible to tell about all these projects, but here are some:
---
1985
Participation in the collective project «Les yeux de la faim» (Hungry eyes) in support of hungry Ethiopians.
Video: Rene & Nathalie Simard/Celine Dion - Les Yeux de la Faim
Jean Robitaille decides to create the single on Marco Studio along with the sound designer Richard Belanger and Orchestra Metropolitain du Grand Monreal. Many record companies initially refused to release this single, as well as in their opinion it might not really help to change an already very serious situation in Ethiopia. Finally the record studio Kebek-Disque released this CD in May 1985 with only one condition: that the entire proceeds from sales of the single (45 tours and 33 tours) must be deposited in the «Quebec Africa» fund.
Project participants:
Daniel Lavoie, Martine St-Clair, Michel Rivard, Céline Dion, Jean-Pierre Ferland, Gilles Vigneault, Nicole Martin,Claude Léveillée, Donald Lautrec, Claude Gauthier, Véronique Béliveau, Pierre Bertrand, Marie-Michèle Desrosiers, Yvon Deschamps, Renée Claude, Pierre Lalonde, Louise Portal, Dominique Michel, Jacques Michel,Louise Forestier, Sylvain Lelièvre, Marjo, Jean-Guy Moreau, Belgazou, Martine Chevrier, Michel Louvain, François Cousineau, Diane Juster, Jacques Boulanger, Michel Lemieux, Peter Pringle, Sylvie Tremblay, Nanette Workman,Robert Leroux, Patsy Gallant, René Simard, Nathalie Simard, Normand Brathwaite et la formation Toulouse (groupe).
---
1988
Participation (with Michael Rivard, Sting, Peter Gabriel and Bruce Springsteen) in the charity action, dedicated to protecting of human rights (HUMAN RIGHTS NOW), which was held in September 1988 at Stade Olympique de Montréal.
All proceeds from the show went to Amnesty International Fund (Committee for Amnesty).
---
2000
In winter 2000 the record of an album and a movie «Noël ensemble» («Christmas together») took place. The project by Pascal Obispo. Pascal succeeded in almost impossible - he has united not less than 108 artists (singers, francophones, actors, athletes) in one song. Among others Daniel Lavoie also participated. «The Christmas song» was recorded, Daniel and Garou sang it in a duet.
All proceeds from the album were given to the Committee for AIDS.
Video: Garou & Daniel Lavoie - The Christmas Song
Video: Ensemble - Noël ensemble - Clip
«Reporters without Borders», June 2002
The motion «Reporters without Borders» began with the idea of «Photos of Stars» with the participation of showbiz and sport celebrities to promote the press freedom in the world. Daniel Lavoie is one of the first, who provided his own photos for this movement. Disposable camera was sold at auction at Intercontinental Hotel in Paris. Daniel Lavoie provided photos of the countryside, where he lives with his family and also of his own garden, home, music studio and even horses.
---
2009
April 28, 2009
Participation in a charity concert, which held in the Mirella et Lino Saputo theatre, Centre Leonardo Da Vinci. The artists expressed their support for the victims from an earthquake on the night of 5/6 April in Italy, Aquila. Nearly 300 died that night.
Participants of the concert:
Daniel Lavoie, Marina Orsini, Bruno Pelletier, Francesco Verrecchia, Diane Juster, Nicola Ciccone, Marco Calliari, Michel Louvain, Danielle Oddera, Giorgia Fumanti, Nathalie Choquette, Dino Tavarone, Angelo Finaldi, Vincenzo Thoma, Dominica Merula, France Castel, Sonia Di Benedetto, Bianca Ortolano.
May 5, 2009
The Charity Concert at Salle l`Etoille du Quartien Dix30 de Brossard.
The annual concert takes place in favor of the Centre Morteregien de Readaptation (CMR), which allows not only to raise money for the fund, but also convince the audience in the reality of people with physical disability, who appeared to become more and more numerous in Monteregic.
Participants of the concert:
Daniel Lavoie, Geneviève Jodoin, Steeve Diamond and others.
May, 2009
The Charity Concert at Cabaret du Lion d`or (Monreal). All collected funds have been transferred to the Research Laboratory of Autoimmunity (LABRAI), University Hospital of Monreal (CHUM), which works in the field of lupus studies. This disease is poorly explored. Approximately 7000 people are sick in Quebec, most of them are women aged from 20 to 45. The exact cause of this chronic disease is unknown and it cannot be prevented.
Participants of the concert:
Daniel Lavoie, Paul Cargnello & The Frontline, Marie-Pierre Arthur, Chorale Les Voix Ferrées, Sophie Beaudet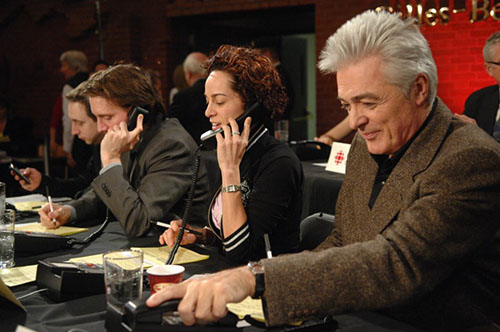 ---
2010
April
88 000$ pour le collège Édouard-Montpetit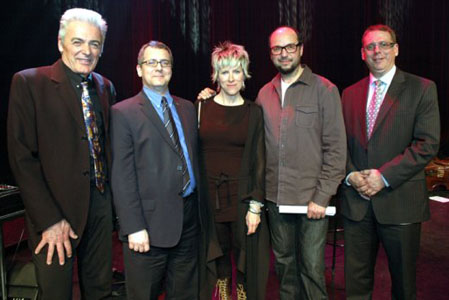 Michel Rivard, Luce Dufault and Daniel Lavoie, three artists, the good name of whom is no more, than they have done. They revived a thousand and one emotion in the numerous spectators attended the event. The performance, specially prepared to mark the 15th benefit-evening in favor of the Development Fund for Edouard-Montpetit College. An amount of 88168₴ has been collected during that night. This success became possible thanks to the sponsors and the wonderful audience.
August, 17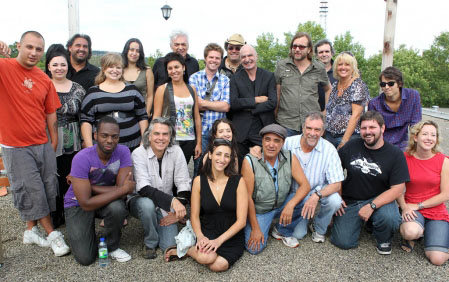 April, 20 - the explosion at the platform Deepwater Horizon, operated by BP, has caused an oil spill in the Gulf of Mexico. This is the ejection of about 780 million liters of oil. And only 127 million liters were collected.
The sea can be darker than it was in Louisiana, but the sky is still blue for Zachary Richard, who gathered in Montreal 20 artists to combat the effects of marine pollution. They gathered in the studio Mixart to record two songs by Louisiana authors. Profits will be donated to the Gulf Aid Acadiana organization.
Daniel Lavoie: «I`m very angry about this savage capitalism, which creates such irresponsible things. People think only of monetary gain».\http://www.24hmontreal.canoe.ca/24hmontreal/artsetspectacles/archives/2010/08/20100818-195430.htmlhttp://www.ledevoir.com/culture/musique/294598/une-chanson-pour-aider-la-louisiane
November 30, 2010
Ottawa cultural environment is mobilized against the bill C-32.
Sign the petition: http://www.cultureequitable.org/signer-la-petition/ Daniel Lavoie, among many cultural figures of Canada, participates in the campaign against Bill C-32 - the law of copyright. The bill in its present form contains many provisions, which weaken the foundations of copyright.
Daniel has been actively involved in the activities of charity funds:
The Canadian Federation for the struggle against Illiteracy (F.C.A.F) and The Research Foundation for Juvenile Diabetes (F.C.A.F).
---
2011
March, 24
Performance with Luce Dufault
Hall of the church Sacré Coeur in Ste Thérese.
The second year, College Lionel-Groulx Fund offers the evening performance, including four finalists of «D'une scène à l'autre» competition («From scene to scene»), with the participation of Daniel Lavoie and Luce Dufault. Finalists will share the stage with Luce Dufault and Daniel Lavoie throughout the whole evening, and, moreover, will present their own performances in the first part, then judges and the audience will choose the winners.
The competition «D'une scène à l'autre» is organized for the second time for the graduates from College Lionel-Groulx musical department, who will share the 8000$ scholarship. Four finalists were selected for the very first time.
The income from charity performance will serve to cover the scholarships, which will be paid to the students, who worth the praise.
«People Choice Award» gives the right to a one-time scholarship of 500$. Honorary President of this event, Bois-des-Filion mayor and Thérèse-De Blainville prefect, Paul Larocque, said: «I am proud to be part of this evening, which will make a good patronage for tomorrow artists».
Luce Dufault will perform to show her own achievements, three songs will be performed along with the finalists. Daniel Lavoie will join them on stage during the second part of the show.
May, 2

Participation in the charity concert for the «Youth Centres in Montreal Fund» during «Chaque coeur a son histoire ...» performance.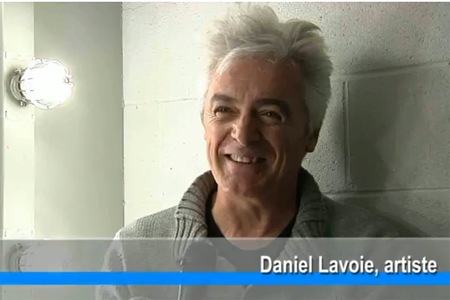 Rock group from Mont-St-Antoine performed on stage of «Maisonneuve de la Place des arts» theater in the company of a large number of young artists from Centre jeunesse de Montreal - Institut universitaire (CJM-IU) and professionals during «Chaque coeur a son histoire ...» spectacle.
Each week young musicians from the band are rehearsing their songs until it is finished. Not every day they get the chance to share the poster with Marie-Pierre Arthur, Dumas, Florence K., Daniel Lavoie, Damien Robitaille, Samian and other artists.
Arts and Culture Program CJM-IU enables young artists to open up, express themselves and enhance their creativity through their artistic activities. The performance is no less than a recognition for them. They carry out their dream - the success on stage.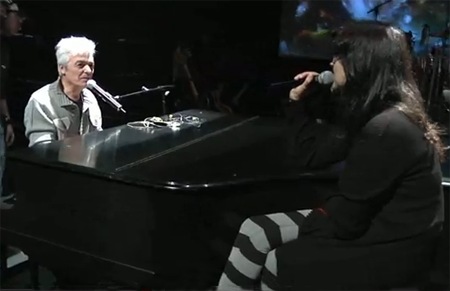 Young musicians are worrying about, but not so much. They are starting to get used to it. This is the fourth edition of «Chaque coeur a son histoire ...». It`s goal aims to collect 100,000$ for a program of arts and culture CJM-IU. (164 130$ was raised).
For donations to the «Youth Centre in Montreal Fund» www.fondationcjm.ca
http://www.radio-canada.ca/audio-video/#urlMedia=http://www.radio-canada.ca/Medianet/2011/RDI2/2011-04-25_21_00_00_TJ_005_500.xml&pos=0
June, 7
- Monreal

To help the «Burned patients Fund».
Thibert, Lavoie, Breau and Janvier gathered for the great occasion. Marie-Elaine Thibert, Patrick Groulx, Lise Dion, Francois Morency, Jean-Francois Breau, Marie-Eve Janvier, Bob Walsh and Daniel Lavoie took part in favor of «Burned patients Fund» at St. Denis Theatre in Montreal.
«Burned patients Fund» exists as a mission to carry considerable support and specialized services, tailored to the needs of burned patients and their families, providing them with variety of services throughout the process of healing the physical and psychological conditions, from the hospitalisation to the final recovery.
November, 2
«Show du Refuge» 2011 in Monreal
This year the 21st edition of «Show du Refuge» was held in Wilfrid-Pelletier, on Wednesday November, 2. Dan Bigras, the official representer of «Refuge des Jeunes» and show art-director, confirmed once again the participation of such artists as Vincent Vallières, Nadja, Brigitte Boisjoli, Marina Orsini, Gardy Fury, Elizabeth Blouin Brathwaite, Jorane , Mara Tremblay and Bobby Bazini in this benefit evening.
Daniel Lavoie also took part in this show.
Sylvie Robitaill, the spectator:
«It was fantastic.... Dan Bigras started singing «Ils s'aiment»... and in a second, Daniel appeared on stage... What a surprise for everybody!!! He deserved ovations!!! This duet was astonishing! Later, other artists joined them singing».

This performance will be broadcasted on TV in December by «Société Radio-Canada» channel.

As for «Show du Refuge»,
Since 1991, «Show du Refuge» attracted more than 23,881 people and helped to earn 3,536, 996 $. Since 1991 until 2010, 112 artists (singers, showmen, bands) participated for free in this show.
2012
There will be the 5th edition of the benefit performance - Cœur à Cœur in favor of the Big Band Monreal University with Daniel Lavoie in February 16
.http://www.concertcoeuracoeur.com/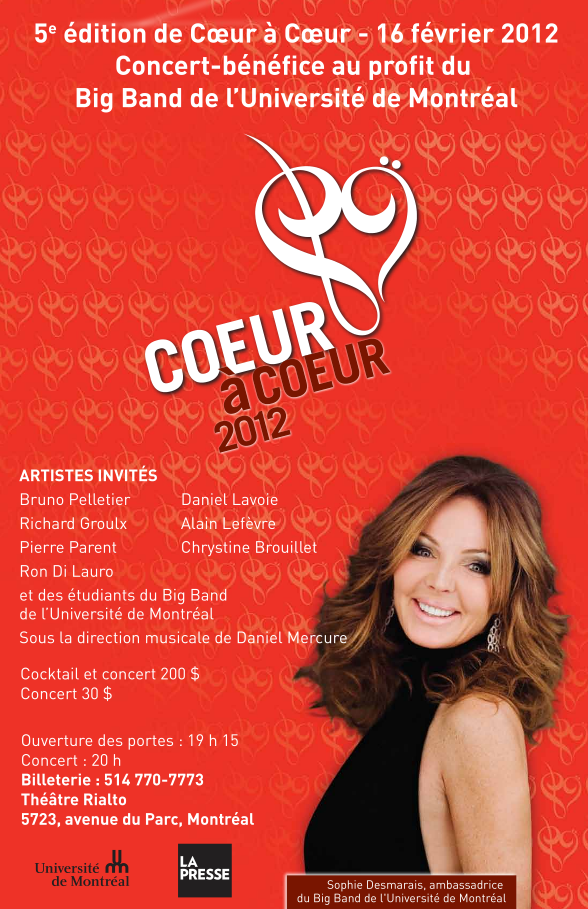 There will be the 5th edition of the benefit performance - Cœur à Cœur in favor of the Big Band Monreal University with Daniel Lavoie in February 16 http://www.concertcoeuracoeur.com/
Hundred voices unite for Association of cerebral palsy invalids and Fund «En Coeur» (Quebec association for children with heart diseases).
On April 15 from 14 to 16 o'clock the chorus of "La Mi-Temps" presents a benefit performance for Association of cerebral palsy invalids and Fund «En Coeur», that is called «Comme un parfum de Lilas» (Like the scent of liac). It is talking about the performance in which love, friendship, brotherhood, good health and passion participate at the same time. This concert, that shows polyphony, consists of popular songs and the classical plays coming from magnificent repertoires of Pauline Julien, Félix Leclerc, Daniel Lavoie and many others.
The performance executed by nearly 100 choristers under control of Jacques Milot, the conductor of an orchestra.
The collected funds will allow to finance the numerous services provided by Association of cerebral palsy invalids or persons with limited physical abilities and equally will serve the Fund «En Coeur» for children with cardiological problems.
The performance will be in the Center of Education for adults (Pavillon de la Salle) of Trois-Rivières.
April 20
Earth Day: artists face the street
More than 25 groups: singers, actors, rappers and humorists, divided a scene on a voluntary basis after they had passed through the main streets of Montreal on behalf of environment. They become frequenters in such events. There are such activists as Roy Dupuis, Michel Rivard and Christian Vanasse, and some beginners.
Article: Earth Day

The Fund Jasmin Roy presented benefit performance called «À la mémoire de Marjorie» (to Marjorie's memory) on November 28, 2012 in Théâtre La Tulipe in Montreal. The death of young Marjorie was a shock for Quebec's students. Marjorie was a victim of blackmail and violence at the school. A great number of famous artists were present to support this event: Robert Charlebois, Marie-Denise Pelletier, Jérôme Charlebois, David Jalbert, Daniel Lavoie, le Cirque Eloize, Ian Kelly, Steeve Diamond et Rick Hugues, Nelka Pelletier, Marco Calliari, Quartz, Maxime Landry, Trio BBQ, Martin Petit, Claude Gauthier and Sophie Pelletier.
2013
Le 4 décembre. Enregistrée devant public ce soir, Noël country à Mégantic, animée par Gildor Roy, rend hommage à la population de Lac-Mégantic, qui fait preuve d'une grande résilience depuis la tragédie qui l'a frappée au début de l'été 2013. Paul Daraîche, Daniel Lavoie et Andrée Watters ont offert au public un moment de réconfort, sous la direction musicale des Mountain Daisies.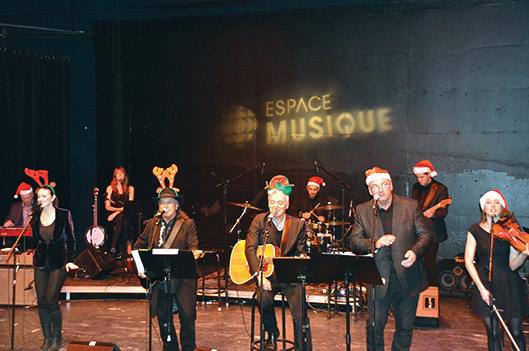 NOUVELLES DISTRICT GRIFFIN: RETOUR SUR CONCERT DE NOËL
Samedi le 7 décembre dernier, le spectacle «Noël de Concert avec Brossard» avait lieu à L'Étoile Banque Nationale du Quartier Dix30.
L'Orchestre Symphonique de Longueuil, la chorale Les Mélodistes, Daniel Lavoie et Isabella Perron ont émerveillé les spectateurs en créant une soirée magique sur le thème de Noël.
Ce concert bénéfice a permis d'amasser 90000$ pour La Fondation d'Entraide de Brossard ayant pour mission d'aider les gens dans le besoin.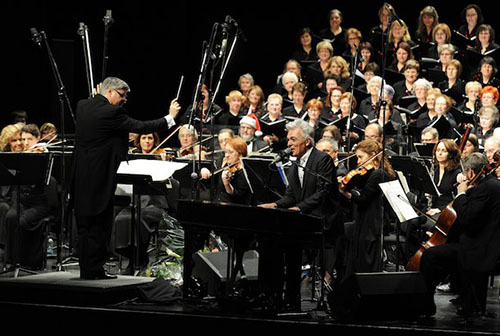 ---
2016
Daniel Lavoie is one of the 42 celebrity artists who gave their drawings for a coloring book which will raise funds for Quebec's Dr. Julen's Foundation providing medical care to underprivileged children.